Sea Turtle Friendly™
The Problem: Sea Turtles are Globally at Risk From Human-Induced Threats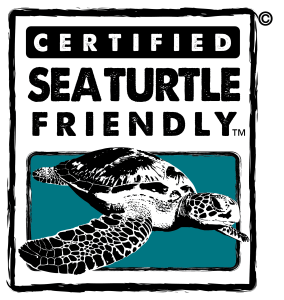 There are seven species of Sea Turtles in the world and all are at risk due to five major human-caused threats: 1) Fisheries Impacts; 2) Direct Take; 3) Coastal Development; 4) Pollution and Disease; and 5) Climate Change, according to the IUCN Marine Turtle Specialist Group.  Many factors are contributing to a decline in the Sea Turtle population, including turtle hunting, collection of eggs for food and trade, illegal fishing, unsustainable fishing methods, civil conflict and weak law enforcement.
The Solution: Engaging Tourists & the Hospitality Sector as Partners in Conservation
By partnering with local communities, the travel and hospitality industry, and on-the-ground conservation partners like the Wider Caribbean Sea Turtle Network (WIDECAST), Sea Turtle Friendly™ acts to provide new and sustainable livelihood opportunities for coastal communities that might otherwise turn to trade in sea turtle meat, parts or egg poaching, and to reduce other impacts of development and recreational activities. Sea Turtle Friendly™ encourages tourism sector operators to take pride in their role as Sea Turtle stewards and in securing a long-term future for the a turtle-based tourism economy.
Watch this space! We will be featuring Sea Turtle Friendly™ resort and hotel properties we are partnering with to pilot this groundbreaking new program!
If you are a hotel, tour operator, or other hospitality business and are invested in Sea Turtle Friendly™ Tourism and you're interested in getting certified, please contact julie@wildlifefriendly.org  We will be piloting this initiative with select tourism sustainability leaders in high biodiversity areas  in the Philippines, the Caribbean and beyond in 2017.
The following resorts have been selected to participate in the piloting of Sea Turtle Friendly™ in the Philippines in 2017:
Environment Department El Nido Resorts