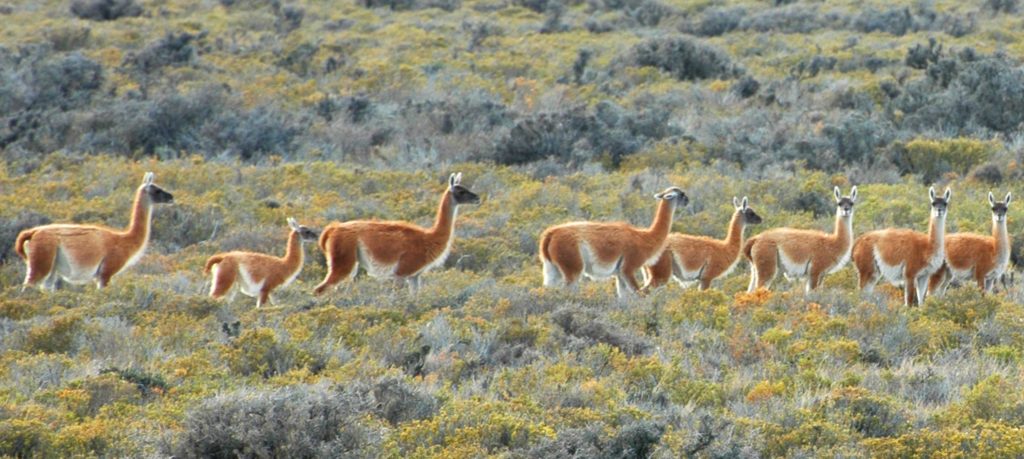 Argentine Designer "MAYDI" to Launch New Collection Featuring Wildlife Friendly™ Certified Fibers During Paris Fashion Week
Home grown luxurious merino wool sourced from Certified Wildlife Friendly™ ranchers is part of WCS Argentina's Patagonian Fibers with a Conscience™ program  
FOR IMMEDIATE RELEASE
BUENOS AIRES AND PUERTO MADRYN, ARGENTINA (January 7, 2019)— Argentine knitwear line Maydi,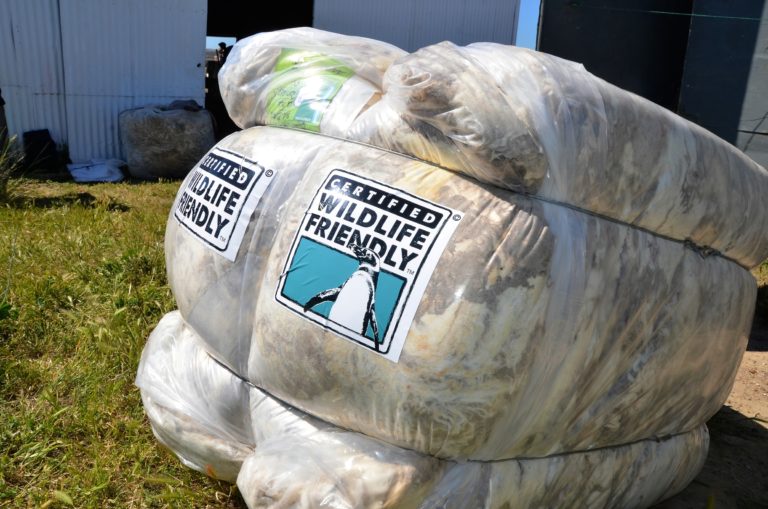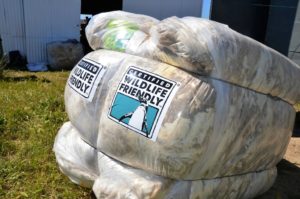 the Wildlife Friendly Enterprise Network (WFEN) and the Wildlife Conservation Society-Argentina (WCS)are pleased to announce the debut of Certified Wildlife Friendly™ fibers from Patagonia Argentina at Paris Fashion Week February 27 – March 6, 2019.  Using luxurious merino wool produced by the "Patagonian Fibers with a Conscience" program from a sustainable ranchers cooperative called "Merino de Peninsula Valdés™" Wildlife Friendly™ merino will be featured for the first time by an independent Argentine designer in her line.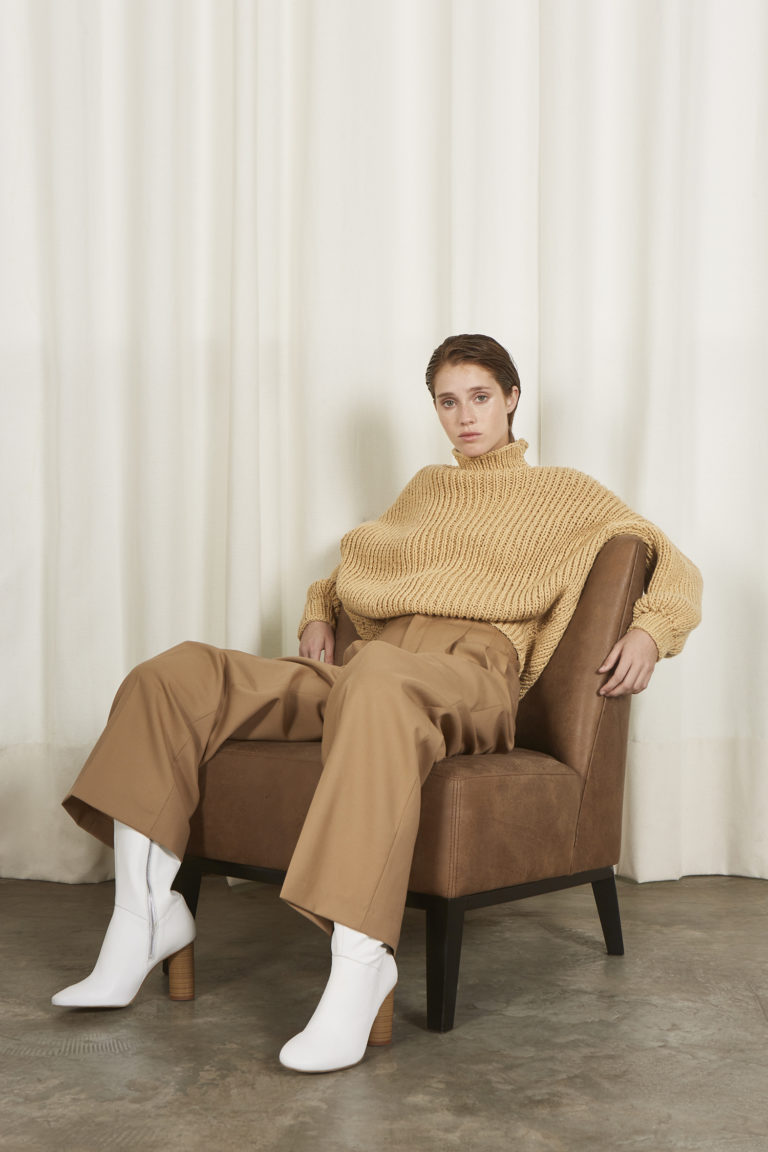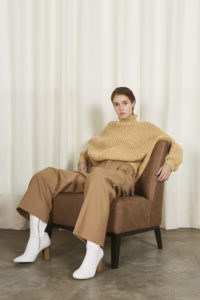 Born in Argentina, Maria Abdala-Zolezzi, a.k.a ¨Maydi¨, is a Franco-Argentine designer who received her training at the London College of Fashion.  After working for over a decade in the fashion meccas of Paris and Milan for international brands like Hermès, Sonia Rykiel, and Isabel Marant,Ms. Zolezzi returned to Argentina to found her own home grown brand, Maydi, to showcase some of the world's best natural fibers like merino, mohair and even wild guanaco fiber, grown on the famous grasslands of her native country. Featured in the Wall Street Journal, the New York Times and in Condé Nast Traveller's the Best of Buenos Aires, each Maydi garment is carefully made by hand using processes that respect both workers and the environment including iconic Argentinean wildlife through this new sourcing partnership with WCS-Argentina and WFEN.  "For MAYDI Sustainability is the responsibility of every individual every day, says Maria Abdala-Zolezzi, "I want to make unique clothes working under fair trade principles while keeping an equitable relationship with the environment as well as with respect and appreciation for the individual people who participate in the craftsmanship of each piece."
WCS Argentina supports the Merino Peninsula Valdés™ (MPV) group who are committed to managing their ranches to allow healthy populations of guanacos, rheas, and maras to co-exist with their sheep, and to use non-lethal methods to control predation by pumas, chilla foxes, and Geoffroy's and pampas cats. Fundación Vida Silvestre Argentina (FVSA) will provide third-party verification of compliance with commitments and collaborate with WCS to monitor impacts on wildlife. "We all agree in making the coexistence between sheep ranching and healthy wildlife a long-term achievement," said Alejandro Arias, coordinator of the FVSA program.  WCS and FVSA are working together under a cooperation agreement with the USFWS to expand the sustainably managed land in the area.
Península Valdés is a 4,000–square-kilometer (1,544 square miles) protected area in Patagonia, declared a UNESCO Natural World Heritage Site in 1999. Península Valdés still harbors significant populations of native wildlife, and its waters are critical habitat for southern right whales, sea lions, magellanic penguins and elephant seals. Although a management plan has been effective in conserving coastal wildlife, the land is privately owned and sheep ranching is widespread.
"These ranchers are committed to wildlife-friendly practices because they are convinced that their economic futures are better served by moving away from maximizing sheep stocking rates and adding value by conserving native species at Península Valdés, an emblematic site of Patagonia. Our work is based on scientific research on wildlife ecology," said Ricardo Baldi, a scientist from CONICET, the Argentine national science agency, and consultant for WCS.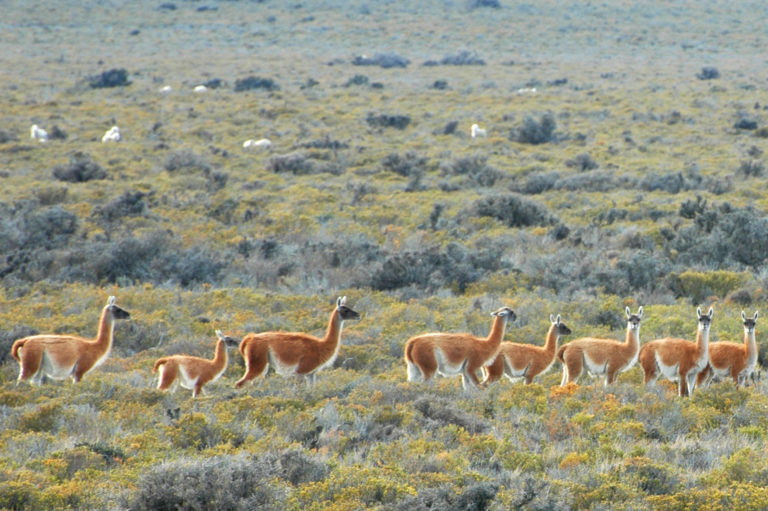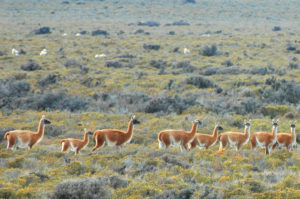 "'Patagonian Fibers with a Conscience™' provides an inspiring opportunity to combine a sustainable business approach with on-the-ground wildlife conservation," said Carina Righi [former Director of WCS Argentina]. "We're showing that we can protect guanacos and other wildlife, support the local economy, and add value to a product that reaches international markets. It's a win-win for Peninsula Valdés."
"We are so gratified to see this enthusiasm from designers and brands in sourcing Wildlife Friendly™ fibers," said Julie Stein, former Executive Director and co-founder of WFEN,  "because global consumers want to support wildlife and habitat through their purchases. This demand demonstrates to ranchers and the Argentinean government that wildlife has economic value and that wildlands and ranchlands can both thrive.  Its very exciting to work with such an exceptionally talented designer like Maria who also shares our vision for a definition of sustainable fashion that includes biodiversity."
For wholesalers, retailers and consumers interested in purchasing the Maydi line please contact:  contact@maydiaz.com
###
About Maydi
Maydi uses only natural fibers and organic yarns in her hand-woven fabrics. The timeless spirit of each piece manifests itself in a 100% contemporary and refined design, carried out through the ancient techniques of hand-knitting, manual weaving loom and crochet, which are thus revalued.  Maydi believes in the principles of fair trade, hence her designs are developed and produced in collaboration with local Argentine artisans, assuring them fair remuneration and respect for the legacy of their craft and art. Weaving loom is one of the oldest cultural traditions of Aboriginal peoples and a clear statement of the importance of women as transmitters of life and culture in society and selects exclusively noble materials such as merino wool of Argentine Patagonia —including yarn in spinning wheel—, mohair, cotton and silk straw. Argentine organic merino is comparable with precious fibers (such as cashmere and alpaca) for its smoothness, shine, and softness, and stands out among the main materials used in the collection. For this reason, beyond this intrinsic quality of fiber, Maydi works with Merino wools that are backed by a production process which takes care of the environment, the well-being of animals and the development of individuals and organizations involved in the entire value chain.
The dyes used are completely natural, obtained from native plants such as: Tara, Palo Amarillo, Guayacán and Cochinilla from Argentina and South America through environmentally friendly processes.
Maydi sets the quality bar very high, ensuring meticulous attention to detail in the entire process of creation of each garment, hand-made from start to finish. Thus, the design of each piece enables raw materials to speak for themselves. The brand continues to cultivate a relationship with internal market: Maydi redoubles its value for customers who appreciate good taste and high design, with made-to measure pieces. Thus, it intensifies the uniqueness of its items and justifies even more the longing for them.
INTERNATIONAL STOCKISTS
SOLIS
6, quai Jules Courmont, Angle rue Thomassin 69002 Lyon — FRANCE
www.solisboutique.com
BIOTOP
4-6-44 Shirokanedai, Minato-ku, 108-0071, Tokyo — JAPAN
www.biotop.jp
LA KAGU
67 Yaraicho, Shinjuku-ku, Tokyo — JAPAN
www.lakagu.com
PLAGE
20-17 Daikanyamacho, Shibuya-Ku 162-0805 Tokyo — JAPAN
www.plage.baycrews.co.jp/store/
CEMENT
2-14-25-101 Shimo ochiai Shinjuku-ku 161-0033, Tokyo — JAPAN
www.cement-own.com
ISETAN
3 – 14 – 1 Shinjuku, Shinjuku-Ku 160-0022 Tokyo — JAPAN
isetan.mistore.jp/store
MAIDENS SHOP
2-19-12 Jingumae Shibuya-Ku, Tokyo — JAPAN
shop.maiden.jp
CHAOS
4-10-5 Jingumae Shibuya-Ku 150-0001 Tokyo — JAPAN
www.chaostokyo.jp
ORA ET LABORA
750 Fort Worth Ave Suite H130, Dallas, TX 75208 – USA
www.oetl.co
About Wildlife Friendly Enterprise Network
WFEN and its certification programs represent grassroots farmers, ranchers, herders, artisans, indigenous peoples and conservation heroes from around the world including two World Bank Development Marketplace Award winners, a U.N. Equator Prize winner, leadership in the world's marketplace for REDD+ Carbon Offsets, and a Time Hero for the Planet. Wildlife Friendly® products contribute to the conservation of over fourteen million hectares of diverse wetlands, forests, and grasslands; protect keystone endangered species inAsia, Africa, Europe, and Latin and North America, including the Snow Leopard, Elephant, Tiger, Cheetah, Red Panda, and Wolf; and benefit over 400,000 people through increased food security, income and employment. For more information visit: www.wildlifefriendly.org, IG: @wildlifefriendly, Twitter: @wfen
About the Wildlife Conservation Society (WCS)
MISSION: WCS saves wildlife and wild places worldwide through science, conservation action, education, and inspiring people to value nature. VISION: WCS envisions a world where wildlife thrives in healthy lands and seas, valued by societies that embrace and benefit from the diversity and integrity of life on earth. To achieve our mission, WCS, based at the Bronx Zoo, harnesses the power of its Global Conservation Program in more than 60 nations and in all the world's oceans and its five wildlife parks in New York City, visited by 4 million people annually. WCS combines its expertise in the field, zoos, and aquarium to achieve its conservation mission.
Visit: www.wcs.org;
https://www.facebook.com/TheWCS;
https://www.youtube.com/user/WCSMedia
Follow: @thewcs
Contact:
Maydi: contact@maydiaz.com
Conicet: Ricardo Baldi: rbaldi@wcs.org
WCS: Stephen Sautner; ssautner@wcs.org
Wildlife Friendly: Christine Lippai: christine@wildlifefriendly.org