French Beauty Brand Elephas Awarded Wildlife Friendly™ Certification for Shea Butter Products that Protect Elephants

Women in Burkina Faso are Key Allies in Protecting Vital Habitat for Elephants in West Africa
FOR IMMEDIATE RELEASE
Paris, France: January 2 – 2020 Founded in France and made in West Africa, luxury beauty brand ELEPHAS, and its ethical shea butter products, is the newest enterprise to be certified under the Wildlife Friendly™ family of brands. ELEPHAS, which is part of Connected Beauties, was launched to ensure that local communities sharing the landscape with African elephants have access to income-generating activities creating a positive incentive for coexisting with wildlife.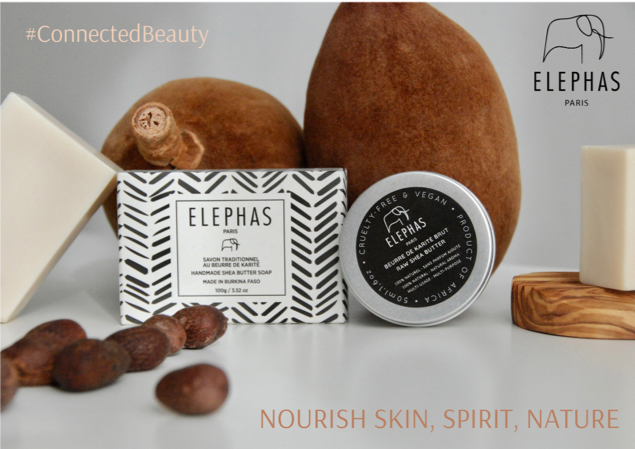 The production of ELEPHAS products begins when women harvest nuts from African shea trees and extract shea butter, highly valued for its anti-aging and moisturizing qualities. As a crucial part of this sustainable production supply chain, the women are key allies in protecting the forests which are vital habitat for one of the largest elephant populations in West Africa. Having earned the Certified Wildlife Friendly™ trustmark, this shea butter is the primary ingredient in ELEPHAS beauty products, demonstrating the company's commitment to high quality ingredients while avoiding any palm oil derivatives, petrochemicals, or plastic packaging. The ELEPHAS mission is to foster economic independence and responsible and sustainable use of natural resources for the communities in their supply chain.
ELEPHAS is one of many social enterprises founded by eco-entrepreneur and conservationist Olivier Behra. "I consider women to be the key in Africa for a long-term economic vision which respects Nature; it made so much sense to make a link between them and women in the western world through cosmetics. Elephas' mission is to promote this Connected Beauty: Connected to your inner self, to those who surround you, to those who provide for you through green value chains (traceable origins and supply) and to Mother Nature herself. A promise of exceptional active ingredients & efficient skincare, as well as development and sustainability to local communities – who are biodiversity's guardians."
"We applaud companies like Elephas who allow global consumers to vote with their pocketbooks to support communities and wildlife around the world," said Julie Stein, Executive Director and co-founder of the Wildlife Friendly Enterprise Network. "Women supporting women who are in turn are helping to protect the remaining matriarchal African elephant herds of West Africa is a win-win-win and we love those."
ELEPHAS is currently seeking a US distributor. If you are potentially interested or can suggest a distributor, please contact Galia: galia.nafikova@connectedbeauties.com.
###

About ELEPHAS
ELEPHAS was created to ensure that communities sharing their rich natural resources with endangered wildlife are given income-generating activities with a positive environmental impact. By harvesting their shea, capable women workers become key allies in protecting the shea tree forests, vital habitat of the largest elephant population in West Africa. For more information visit: https://www.elephas.fr/en/ and https://connectedbeauties.com/, Facebook pages: English: https://www.facebook.com/ElephasUK/ ; French: https://www.facebook.com/elephasparis/ ; Instagram: https://www.instagram.com/elephas_paris/ ; Twitter: @ElephasParis
About Wildlife Friendly Enterprise Network
WFEN and its certification programs represent grassroots farmers, ranchers, herders, artisans, indigenous peoples and conservation heroes from around the world including two World Bank Development Marketplace Award winners, a U.N. Equator Prize winner, leadership in the world's marketplace for REDD+ Carbon Offsets, and a Time Hero for the Planet. Wildlife Friendly® products contribute to the conservation of over twelve million hectares of diverse wetlands, forests, and grasslands; protect keystone endangered species in Asia, Africa, Europe, and Latin and North America, including the Snow Leopard, Elephant, Tiger, Cheetah, Red Panda, and Wolf; and benefit over 200,000 people through increased food security, income and employment. For more information visit: www.wildlifefriendly.org, Instagram: @wildlifefriendly, Twitter: @wfen
Contact
ELEPHAS:
ELEPHAS Founder: olivier.behra@connectedbeauties.com
Brand manager France Galiya NAFIKOVA: contact@elephas.fr or galia.nafikova@connectedbeauties.com
Brand manager UK Louise POTTS: louise.potts@elephas.fr
WFEN: Christine Lippai – christine@wildlifefriendly.org