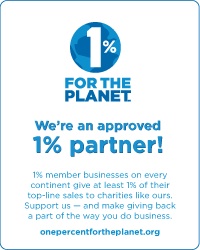 Certified Wildlife Friendly™  is pleased to announce they are the newest nonprofit partner of 1% for the Planet, an alliance of over 1,380 member companies in 43 countries that give one percent of revenues to environmental causes.
Certified Wildlife Friendly™ is now eligible to receive donations from 1% member companies, placing them among a diverse, global network of environmental organizations.  1% member businesses fuel this non-profit network through their annual contributions, which totaled over $22 million in 2010.  Partnership with 1% greatly expands the potential pool of funding to which  Certified Wildlife Friendly™ can look to for support.
Newly approved   Certified Wildlife Friendly™  contributes to a healthier planet by protecting wildlife in wild places through certifying enterprises that assure people and nature coexist and thrive.
Over 2,300 non-profits worldwide are included in the 1% network, and over $70 million has been funneled to its nonprofit partners to date.  "The intent of 1% for the Planet is to help fund these diverse environmental organizations so that collectively they can be a more powerful force in solving the world's problems," Yvon Chouinard, founder of 1% for the Planet.