WFEN Welcomes WCS-Madagascar as a Certified Enterprise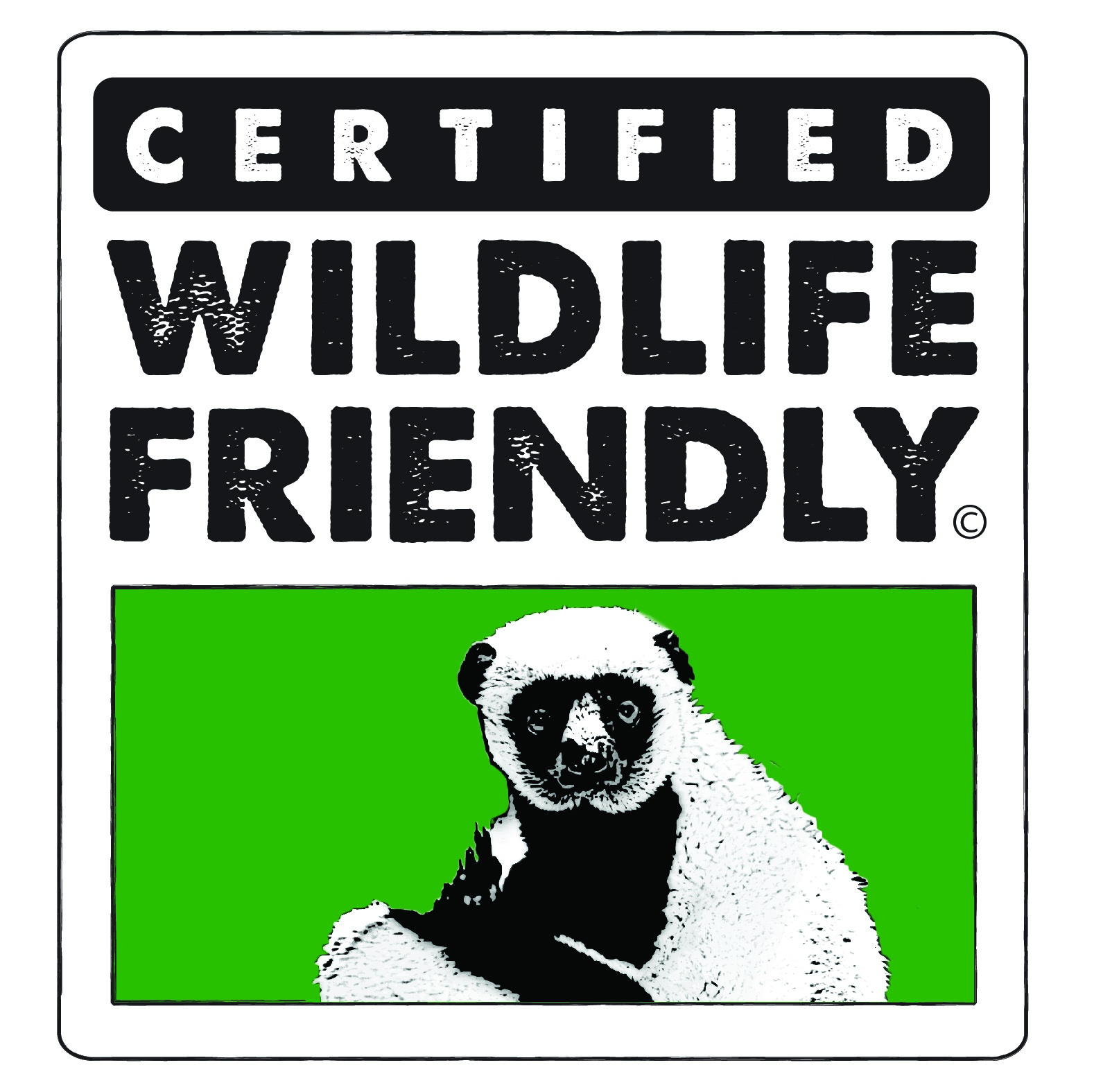 FOR IMMEDIATE RELEASE
WCS Madagascar brings raffia, cocoa beans, vanilla, cloves and community managed tourism to the Certified Wildlife Friendly® suite of conservation enterprises, products and services while protecting some of the most endangered primates in the world
ANTANANARIVO, MADAGASCAR: – 14 May 2015 – The Wildlife Friendly Enterprise Network (WFEN), a global community dedicated to supporting products that conserve threatened wildlife and contribute to economic vitality in rural landscapes, is pleased to announce the awarding of Wildlife Friendly® Certification to the Wildlife Conservation Society-Madagascar (WCS) program for raffia, cocoa beans, vanilla, cloves and community managed tourism which are all produced or managed by communities living around the Makira Natural Park in northeastern Madagascar. This 1,400 square mile block of forest is unique it in that it provides a refuge for numerous rare, threatened, vulnerable and endemic species including 20 threatened lemur species, three of which are amongst the 25 most endangered primates in the world. The forest plays an important role in maintaining connectivity for species between the forests of eastern and northern Madagascar, and in the provision of ecosystem services like water regulation and supply and carbon storage.
"We are thrilled to be able to offer these new Wildlife Friendly® ingredients and to make them available to buyers around the world. These products will help to share Madagascar's extraordinary story of people, wildlife and forests to aspirational consumers around the world," said WFEN Executive Director Julie Stein. "We already have several buyers lined up and ready to begin sourcing these products from the Makira region."
WCS is the delegated manager of the Makira Natural Park which was formally created in 2012 after a ten-year period of consultation with local communities, and socio-economic and ecological studies. WCS collaboratively manages the Park with local communities and has a strong commitment to contributing to the improved wellbeing of local populations. WCS has supported 67 community associations to establish a 'green belt' around the core forest of Makira and works with these communities to diversify livelihoods options through improving production skills and access to markets for high-quality natural resource based products. In return communities are active partners in Park management activities through involvement in patrols and ecological monitoring activities.
"We are very proud to have obtained this certification for the products produced by communities living around Makira. The work that we do with local communities to improve production quality and thus help to ensure sustainable households revenue has the ultimate goal of contributing to the conservation of the unique biodiversity found in this area, and the Wildlife Friendly® certification is a recognition of this link. We have had very positive feedback from international clients on the quality of products from Makira, and we are delighted to be part of the Wildlife Friendly network as it will help us increase the visibility of these products in new markets" said Alison Clausen, Country Director of the WCS Madagascar program.
###
About Wildlife Friendly Enterprise Network
WFEN and its Certified Wildlife Friendly® and Predator Friendly® certification programs represent grassroots farmers, ranchers, artisans and conservation heroes from around the world including two World Bank Development Marketplace Award winners, a U.N. Equator Prize winner, leadership in the world's marketplace for REDD+ Carbon Offsets, a Time Hero for the Planet, and a National Geographic Big Cats Initiative grantee. Certified Wildlife Friendly® products contribute to the conservation of over twelve million hectares of diverse wetlands, forests, and grasslands; protect keystone endangered species in Asia, Africa, Europe, and Latin and North America, including the Snow Leopard, Elephant, Cheetah, Spectacled Bear, and Wolf; and benefit over 200,000 people through increased food security, income and employment. For more information visit: www.wildlifefriendly.org
About the Wildlife Conservation Society (WCS)
MISSION: WCS saves wildlife and wild places worldwide through science, conservation action, education, and inspiring people to value nature. VISION: WCS envisions a world where wildlife thrives in healthy lands and seas, valued by societies that embrace and benefit from the diversity and integrity of life on earth. To achieve our mission, WCS, based at the Bronx Zoo, harnesses the power of its Global Conservation Program in more than 60 nations and in all the world's oceans and its five wildlife parks in New York City, visited by 4 million people annually. WCS combines its expertise in the field, zoos, and aquarium to achieve its conservation mission. Visit: www.wcs.org;https://www.facebook.com/TheWCS; https://www.youtube.com/user/WCSMedia  Follow: @thewcs.
Contact:
Wildlife Friendly
Julie Stein: Julie@wildlifefriendly.org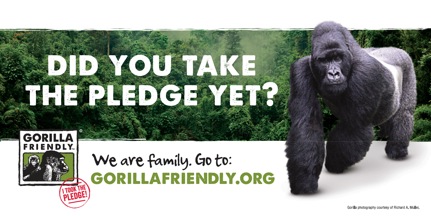 FOR IMMEDIATE RELEASE
Online Pledge Makes Tourists Partners in Conservation of Gorillas in the Wild
Kigali, Rwanda, 20 June 2014 – The International Gorilla Conservation Programme (IGCP) and Wildlife Friendly Enterprise Network (WFEN) announce the launch of the Gorilla Friendly™ Pledge, an awareness raising campaign developed to minimize the risk of disease transmission from human to gorilla, during treks to see these magnificent great apes in the wild.
Launched to coincide with the peak gorilla trekking tourist season and Kwita Izina, the annual baby gorilla naming ceremony which takes place in Rwanda on July 1, Gorilla Friendly™ Pledge will serve to safeguard gorillas by minimizing the risk of disease transmission or behavioral change as a result of exposure to people.
"Conscientious mountain gorilla tourism has contributed to one of the world's true conservation success stories. By demonstrating that gorillas and their forest habitat can provide real and lasting benefits to people and economies, people living around the parks have become their guardians," states Anna Behm Masozera, Director of the coalition International Gorilla Conservation Programme. "But we cannot be complacent and now is the time to better equip tourists with the tools to become gorilla guardians as well. This Pledge aims to empower tourists visiting any of the gorilla subspecies in the wild across Africa with information as to the regulations in place for gorilla tourism to make these often once-in-a-lifetime experiences even more valuable – to their experience and to the gorillas."
The Pledge outlines ten simple things that incoming gorilla tourists can do before, during and after their visit, including providing feedback on their experience.
The content of the Pledge originates from existing visitation rules and regulations defined by the leading experts on great apes and outlined in the International Union for the Conservation of Nature (IUCN) Best Practice Guidelines for Great Ape Tourism and has been endorsed by a wide range of institutions and organizations.
"We are very excited to be part of this innovative effort to engage tourists as active participants in the conservation of one of the world's most iconic endangered species, the mountain gorilla," said Julie Stein, Executive Director of the Wildlife Friendly Enterprise Network. "We believe consumers, in this case tourists, can be empowered to support global conservation efforts and, through the Gorilla Friendly™ Pledge, enable them to make a significant contribution towards safeguarding mountain gorillas for future generations."