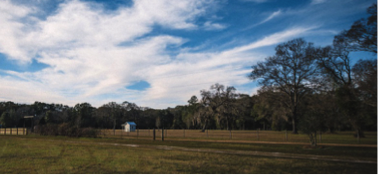 Traders Hill Farm Becomes First Aquaponic Farm in Florida to Achieve Certified Wildlife Friendly® Status
Farm management practices emphasize coexistence with free-roaming wildlife including Florida panther and endangered gopher tortoises
FOR IMMEDIATE RELEASE
Hilliard, FL (March 23, 2016) Traders Hill Farm, a sustainable aquaponic farm whose products grow faster, taste better, last longer and waste nothing, has been recognized as North Florida's first farm and the state of Florida's first aquaponic farm to achieve the status of Certified Wildlife Friendly® from the Wildlife Friendly Enterprise Network (WFEN).
Traders Hill Farm is committed to providing a place for wildlife while showcasing the power of aquaponics, which is a combination of aquaculture (raising aquatic animals such as fish) and hydroponics (growing plants in water without soil). At Traders Hill, farm-raised tilapia produce nutrient-rich water that becomes fertilizer for seedlings raised in floating grow-beds inside temperature-controlled greenhouses. As the seedlings consume the nutrients, they clean the water that is then returned to the fish tanks, thus completing the circle.
"We're proud to represent a revolutionary idea in farming," said Angela TenBroeck, founder and manager of Traders Hill Farm and a fourth-generation farmer. "By turning fish water into plant food, we deliver delicious, difficult-to-grow produce year-round in a greenhouse but require zero soil, pesticides or herbicides, and we use just 10% of the water of traditional farms."
It is Angela's efforts to coexist with wildlife through sustainable production practices that has earned her farm its certification from WFEN. As a recycler of North Florida's abandoned farmland, Traders Hill Farm is located just below the Okefenokee National Wildlife Refuge, a 700 square mile wilderness area. On the farm, wild animals from endangered gopher tortoises to black bears and bobcats can "go for miles and never see humans" according to TenBroeck. A rare Florida panther has been tracked on the property.
A small flock of laying hens is protected by a portable chicken pen with secure fencing that houses two coops. The chickens are locked inside the coops at night to prevent predation. Cross-hatched by twine to keep the area's eagles and hawks at bay, the pen is frequently moved to fresh grass. Traders Hill's pasture raised hens are also Animal Welfare Approved.
The tilapia, which are given ample space and treated with "kindness and dignity" provide all the nutrients the produce needs, in combination with re-circulated rainwater. Fish waste and emulsions serve as additional income streams, purchased as fertilizer by local dairy farms.
This attention to detail transfers to care of the farm's extensive wetlands and Cypress swamp along the St. Mary's River. The farm has removed non-native species, planted more than 70,000 long-leaf pines, and continues to work to keep invasive vines at bay.
About Traders Hill Farm
Hilliard, Fla.-based Traders Hill Farm raises GMO-free salad greens, mustards, collards, kales, basils, Swiss chards, head lettuce, tomatoes, melons, eggs and tilapia using a revolutionary "no waste" aquaponic system to raise produce that grows faster, lasts longer and tastes better. Greens are available at Jacksonville restaurants and markets, including Southern Roots, Grassroots Natural Market, Native Sun Natural Foods and from the farm. For more information, see www.tradershillfarm.com.
About Wildlife Friendly Enterprise Network
The Wildlife Friendly Enterprise Network and its Certified Wildlife Friendly® and Predator Friendly® programs represent farmers, ranchers, artisans and conservation heroes from around the world. Participating farms in North America maintain and enhance wildlife habitats and employ a mix of careful observation and proactive practices to allow wildlife and livestock to coexist.
Certified Wildlife Friendly® products contribute to the conservation of over twelve million hectares of diverse wetlands, forests, and grasslands; protect keystone endangered species in North America, Europe, Africa, Asia and the Americas, including wolves, elephants, cheetahs, red pandas, and snow leopard, and benefit over 200,000 people through increased food security, income and employment. For more information visit: www.wildlifefriendly.org