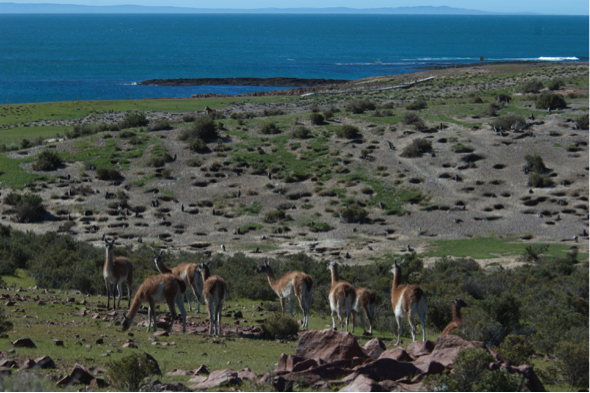 WFEN Welcomes Wildlife Conservation Society-Argentina & First Certified Wool Producers from Iconic Peninsula Valdés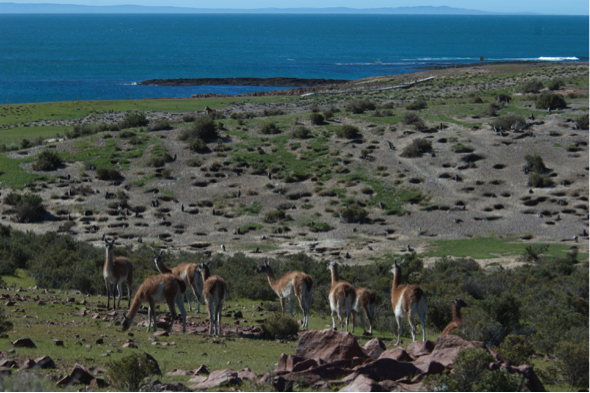 WCS Argentina's Patagonian Fibers with a Conscience Program
FOR IMMEDIATE RELEASE
PUERTO MADRYN, ARGENTINA: – AUGUST-2015– The Wildlife Friendly Enterprise Network (WFEN), a global community dedicated to developing and promoting products and tourism that contribute to the conservation of threatened wildlife and to the economic vitality of rural landscapes, is pleased to announce the awarding of Wildlife Friendly® Certification for "Merino Peninsula Valdés" to the Wildlife Conservation Society-Argentina (WCS) program, "Patagonian Fibers with a Conscience." WCS Argentina supports the ranchers of the Merino Peninsula Valdés group who are committed to managing their ranches to allow healthy populations of guanacos, rheas, and maras to co-exist with their sheep, and to use non-lethal methods to control predation by pumas, chilla foxes, and Geoffroy's and Pampas cats. Fundación Vida Silvestre Argentina (FVSA) will provide third-party verification of compliance with commitments and collaborate with WCS to monitor impacts on wildlife. "We all agree in making the coexistence between sheep ranching and healthy wildlife a long-term achievement," said Alejandro Arias, coordinator of the FVSA program in Península Valdés.
Península Valdés is a 4,000 square-kilometer protected area in Patagonia, declared a UNESCO Natural World Heritage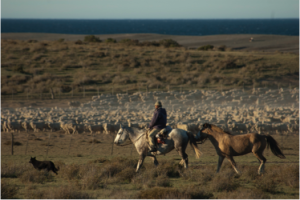 Site in 1999. Compared to other sites in the region, the steppe of Península Valdés still harbors significant populations of native wildlife, and its waters are critical habitat for southern right whales, sea lions, and elephant seals during reproduction. Although a management plan has been effective in conserving coastal wildlife, the land is privately owned and sheep ranching is widespread within the area.
The six ranches of the group represent almost 10 percent of the Peninsula and produce over 50 metric tons of fine Merino wool per year. For decades, they have managed their sheep responsibly, keeping low stocking rates. As a result, significant numbers of wild herbivores and carnivores have persisted on their ranches.
"These ranchers are committed to implement wildlife-friendly practices because they are convinced that their economic futures are better served by moving away from maximizing sheep stocking rates on their ranches and adding value by conserving the wild, native species at such an emblematic site of Patagonia like Península Valdés," says Ricardo Baldi, a scientist from CONICET, the Argentine national science agency, and consultant for WCS.
"'Patagonian Fibers with a Conscience' serves as an inspiring example of how to combine sustainability with effective conservation," said Dr. Guillermo Harris, Director of WCS's Argentina Program. "We're showing that we can protect guanacos and other wildlife and support the local economy. It's a win-win for Peninsula Valdés."
"We had the privilege of traveling to Península Valdés earlier this year and seeing for ourselves this extraordinary place where marine ecosystems boasting sea lions, penguins and killer whales meet conservation minded sheep establecimientos coexisting with native wildlife like guanacos and in some cases even pumas," said WFEN Executive Director Julie Stein. "We are very excited to be able to showcase this kind of conservation success story through our partnership with on the ground partners like WCS."
By buying Certified Wildlife Friendly® wool from the Merino de Península Valdés group, responsible consumers will help both to sustain the local economy while conserving the wild species and ecosystems of Patagonia.
###
About Wildlife Friendly Enterprise Network
WFEN and its Certified Wildlife Friendly® and Predator Friendly® certification programs represent grassroots farmers, ranchers, artisans, indigenous peoples and conservation heroes from around the world including two World Bank Development Marketplace Award winners, a U.N. Equator Prize winner, leadership in the world's marketplace for REDD+ Carbon Offsets, a Time Hero for the Planet, and a National Geographic Big Cats Initiative grantee. Certified Wildlife Friendly® products contribute to the conservation of over twelve million hectares of diverse wetlands, forests, and grasslands; protect keystone endangered species in Asia, Africa, Europe, and Latin and North America, including the Snow Leopard, Elephant, Cheetah, Red Panda, and Wolf; and benefit over 200,000 people through increased food security, income and employment. For more information visit: www.wildlifefriendly.org
About the Wildlife Conservation Society (WCS)
MISSION: WCS saves wildlife and wild places worldwide through science, conservation action, education, and inspiring people to value nature. VISION: WCS envisions a world where wildlife thrives in healthy lands and seas, valued by societies that embrace and benefit from the diversity and integrity of life on earth. To achieve our mission, WCS, based at the Bronx Zoo, harnesses the power of its Global Conservation Program in more than 60 nations and in all the world's oceans and its five wildlife parks in New York City, visited by 4 million people annually. WCS combines its expertise in the field, zoos, and aquarium to achieve its conservation mission.
Visit: www.wcs.org;
https://www.facebook.com/TheWCS;
https://www.youtube.com/user/WCSMedia
Follow: @thewcs
Contact:
Wildlife Friendly
Julie Stein: Julie@wildlifefriendly.org
Facebook
Twitter
Instagram