Nuxalbari Tea Estate Becomes Second Enterprise in the World to Earn Elephant Friendly™ Certification
Darjeeling Tea Plantation Works to Secure a Future for Wild Elephants through Coexistence
FOR IMMEDIATE RELEASE
AUGUST 6, 2018 – DARJEELING – The Wildlife Friendly Enterprise Network (WFEN) and the University of Montana (UM) are pleased to announce the certification of the historic Nuxalbari Tea Estate, the first large acreage tea producer to be recognized under the Certified Elephant Friendly™ Tea program. Nuxalbari Tea Estate is a 1200-acre woman-owned and operated tea estate in Darjeeling District of West Bengal, India. This newly certified enterprise is the second globally to receive this recognition, and the first in Darjeeling District. The Elephant Friendly™ Tea certification program establishes stringent certification standards for the protection of endangered Asian elephants and the reduction of human-elephant conflict. This innovative effort is being spearheaded through a partnership between WFEN, a global community dedicated to the development of enterprises that contribute to the conservation of threatened wildlife and to the economic vitality of rural landscapes, and conservation biologists and sustainability-focused business experts at the University of Montana, to connect tea growers, sellers and consumers in a farm-to-cup approach.
Engaging tea growers as active partners in elephant conservation is critical to the future of Asian elephants in the wild. Agricultural lands planted for tea production can play a vital role as corridors of movement between natural areas. Tea plantations often serve as nurseries where elephant mothers give birth and rest for a few days until their newborn babies are strong enough to move with the herd. However, agricultural practices on tea estates can present potential dangers for elephants. Drainage ditch hazards can trap elephants, especially juveniles. Improperly installed electric fencing or sagging electricity lines can pose electrocution risks for elephants. Chemicals used in conventional tea production, if not stored securely or applied judiciously, can poison elephants. Blocking of elephant corridors with fencing or walls can disrupt age-old patterns of movements of elephant herds. Human-elephant conflict can have grave consequences for both elephants and tea worker communities.
Nuxalbari Tea Estate, established in 1884, has been within the same family for four generations with operations currently led by Sonia Jabbar, a fifth-generation tea planter, conservationist, polo player and single mother. "Elephants are living bodhisattvas," says Ms. Jabbar, "We humans can learn a lot from them. They are big and powerful, but choose to remain patient with us despite the fact that we rob them of their forests, tease, harass, and even kill them. It is our duty to protect these gentle giants and we must learn to peacefully co-exist with them on this beautiful earth. I am very grateful to WFEN and the University of Montana (UM) for recognizing and supporting our work."
As a result of Ms. Jabbar's efforts for the past 7 years, Nuxalbari Tea Estate has become a safe haven for wild elephants as they move between shrinking fragments of forests in north Bengal. In order to reduce human-elephant conflict the estate's security guards are trained to maintain a 400-meter safe corridor for elephants to pass through unharmed. Other projects to promote biodiversity within the tea estate include the establishment of a 100-acre re-wilding project for native species including elephants. Ms. Jabbar leads a Hathi Sathi nature club for the children of tea workers to encourage a new generation of "Barefoot Conservationists." To address the concerns of neighboring farmers affected by hungry elephants that raid their fields and cause economic distress to an already struggling population, there are future plans to establish a fund for crop insurance to cover economic losses caused by elephants. Coexistence between humans and elephants requires significant buy-in from the local community and forest officials, and Ms. Jabbar hopes to inspire other tea growers to embark on similar efforts.
"Elephant Friendly™ tea certification provides an opportunity for tea consumers to reward tea growers for changing practices that have negative impacts on elephant populations and enables companies to tell a story of coexistence to consumers," said WFEN Executive Director and co-founder Julie Stein, "and we are thrilled to welcome our first woman-owned certified tea grower into the Wildlife Friendly™ family of brands."
Lisa Mills, who serves as the liaison for the University of Montana on this project, explains: "We have completed a full year of testing the consumer market and have found that when Certified Elephant Friendly™ tea products are offered as a choice amongst otherwise similar quality products, consumers prefer knowing their dollars are making a difference for elephants. As of August 2018, more than 50 companies are carrying Certified Elephant Friendly™ tea products."
Since the early 1800's tea consumption has been on the rise, and today it is the most popular beverage worldwide. Tea plantations have replaced much of the natural habitat of Asian elephants and other species. Habitat loss and the associated human-elephant conflict, which often lead to loss of life for both people and elephants, have contributed significantly to the decline of Asian elephant populations. According to the IUCN Red List, Asian elephants, or Elephas maximus, are an endangered species, with an estimated 40,000-50,000 remaining across their range countries, a decline of over 50% in the last 75 years. India holds at least 50% of the remaining population and is the world's second largest tea producer, with tea lands primarily located in areas historically inhabited by elephants. 
 By purchasing Elephant Friendly™ tea consumers are helping sustain wild elephant populations and to secure their future. Interested companies and consumers can learn more at http://elephantfriendlytea.com and http://wildlifefriendly.org/specie/asian-elephant
###
About the Wildlife Friendly Enterprise Network 
WFEN and its certification programs represent grassroots farmers, ranchers, artisans, indigenous peoples and conservation heroes from around the world, including two World Bank Development Marketplace Award winners, a U.N. Equator Prize winner, leadership in the world's marketplace for REDD+ Carbon Offsets, and a Time Hero for the Planet. Certified Wildlife Friendly® products contribute to the conservation of over twelve million hectares of diverse wetlands, forests, and grasslands; protect keystone endangered species in Asia, Africa, Europe, and Latin and North America I including the snow leopard, tiger, elephant, cheetah, red panda, and wolf I and benefit over 200,000 people through increased food security, income and employment. For more information visit: www.wildlifefriendly.org
About the University of Montana 
The University of Montana (UM), located in Missoula, Montana, USA, is a higher education institution, home to the top ranked Wildlife Biology Program in North America and award-winning research, outreach and business innovation programs. The Elephant Friendly™ Program is a partnership between the University of Montana's Broader Impacts Group, the Wildlife Friendly Enterprise Network, and business and conservation science advisors from across the globe. The UM Blackstone Launchpad and UM School of Business provide additional planning and marketing support. For more information visit: https://www.umt.edu/research/ 
Contact:
Wildlife Friendly Enterprise Network: 
Julie Stein at Julie@wildlifefriendly.org 


University of Montana: 
Lisa Mills at lisa.mills@umontana.edu

The future Patagonia National Park, Chile, is now Certified Wildlife Friendly™ showcasing flagship coexistence efforts, wildlife conservation and wild lands protection for tourists while supporting the local economy 
FOR IMMEDIATE RELEASE
 AYSÉN REGION, CHILE: – APRIL-2017– The Wildlife Friendly Enterprise Network (WFEN), a global community dedicated to the development and promotion of products and tourism that contribute to the conservation of threatened wildlife and to the economic vitality of rural landscapes, is pleased to announce the awarding of Wildlife Friendly™ Certification to Patagonia Park, part of Conservacion Patagonica whose mission is to promote the creation of national parks in Patagonia (Argentina and Chile), in collaboration with neighboring communities and local, regional, and national governments, that save and restore wildlands and wildlife, inspire care for the natural world, and generate healthy economic opportunities for local communities.
Originally one of the region's largest sheep ranches, Estancia Valle Chacabuco changed ownership several times over the past century, resulting in an overgrazed and degraded landscape. When Kris and Doug Tompkins first visited the Valle Chacabuco Valley in 1995, CONAF (Chile's National Forest Service) had long recognized the need to prioritize the protection of these unique and biodiverse ecosystems. With help from Tompkins Conservation and Conservacion Patagonica, the 170,500-acre Estancia Chacabuco was acquired. In subsequent years several other adjacent properties have been purchased from willing sellers, bringing the currently total area of protected land to close to 200,000 acres. Eventually, Patagonia Park will be combined with the Jeinimeni National Reserve to the north and the Tamango National Reserve to the south, to create a 640,000-acre Patagonia National Park. This will allow bi-national trans-boundary access across the border of Chile and Argentina and will provide ecosystem continuity, wildlife corridors, and tourist driving and hiking circuits.
"For Conservación Patagonica it is an honour to receive the Wildlife Friendly™ Certification in Chile which is a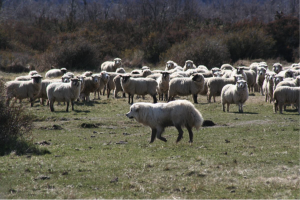 landmark supporting the feasibility of traditional livestock activities in Patagonia coexisting with top predators such as pumas", said Paula Herrera, a veterinary doctor and livestock manager for the Park. "It has been a long process, over eight years involving changes in the carrying capacity, herding practices and a strong involvement of local gauchos. Today, we are very proud to reach the point where our neighbors recognize our status as a protected area, and the high quality of our products (meat, wool and breeding stock) associated with different livestock management practices such as the pioneering use of livestock guardian dogs to reduce predation in southern Patagonia.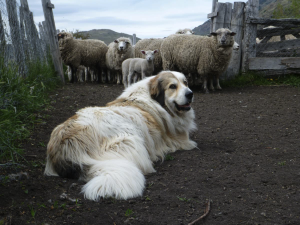 "We are thrilled to recognize the incredible restoration, conservation and coexistence work happening here in Patagonia Park," said WFEN Executive Director Julie Stein during a recent visit to the park to meet with the wildlife team and other staff. "It is truly inspiring to witness first hand this celebration of wild places including the hard but essential work to coexist with apex predators like pumas and by proving that the local economy can be supported through Wildlife Friendly™ tourism and products. We don't have to choose between thriving businesses and thriving biodiversity – both are possible and in fact are inter-dependent."
Efforts at Patagonia Park include extensive grasslands restoration, removal of over 400 miles of fencing which fragmented critical habitat by blocking wildlife corridors and entangling species like Guanacos in barbed wire leading to mortality. There is also an endangered Huemul Deer recovery program, a breeding center for Darwin's Rheas, an Andean Condor reintroduction effort, and Puma monitoring, as well as a thriving livestock guard dog program to protect livestock from predation.
Patagonia Park is an initiative led by Conservación Patagonica since 2004, whose main goal throughout has been the formal donation of the land to the Chilean State to create Patagonia National Park, an agreement which was finalized and signed by the Chilean President President Michelle Bachelet on March 15 2017.
"The need for people and wildlife to not only coexist but to benefit each other is a challenge for protected areas and neighboring lands and communities," said Cristián Saucedo, Conservation Director. At Conservación Patagónica, we believe this, and we invite other Chilean initiatives to be part of the Wildlife Friendly Enterprise Network, because we see this as a unique opportunity which links tourism, conservation, local communities and caring for the land as all part of our long- term vision for wild lands in Chile."
###
About Wildlife Friendly Enterprise Network 
WFEN and its certification programs represent grassroots farmers, ranchers, artisans, indigenous peoples and conservation heroes from around the world including two World Bank Development Marketplace Award winners, a U.N. Equator Prize winner, leadership in the world's marketplace for REDD+ Carbon Offsets, a Time Hero for the Planet, and a National Geographic Big Cats Initiative grantee. Certified Wildlife Friendly® products contribute to the conservation of over twelve million hectares of diverse wetlands, forests, and grasslands; protect keystone endangered species in Asia, Africa, Europe, and Latin and North America, including the Snow Leopard, Tiger, Elephant, Cheetah, Red Panda, and Wolf; and benefit over 200,000 people through increased food security, income and employment. For more information visit: www.wildlifefriendly.org
About Patagonia Park 
Conservacion Patagonica works to create national parks in Patagonia that save and restore wildlands and wildlife, inspire care for the natural world, and generate healthy economic opportunities for local communities. For more information see www.tompkinsconservation.org / www.kristinetompkins.com / www.parquepatagonia.org
Tompkins Conservation: https://www.facebook.com/tompkinsconservation/
Patagonia Park: https://www.facebook.com/parquepatagoniaoficial/ 
Conservacion Patagonica: https://www.facebook.com/ProtectPatagonia/ 
Conservacion Patagonica: https://www.instagram.com/conservacionpatagonica/ 
Patagonia Park: https://www.instagram.com/parquepatagonia/ 
Contact: 
Patagonia Park 
Dr. Paula Herrera, Livestock guardian dog program: pherrera@conservacionpatagonica.cl 
Dr. Cristián Saucedo, Director of Wildlife Projects: csaucedo@conservacionpatagonica.cl 
Alison Kelman, US Media Contact: alison.kelman@tompkinsconservation.org 
Wildlife Friendly 
Julie Stein: Julie@wildlifefriendly.org