Staff
---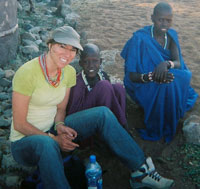 Julie Stein, Executive Director and Co-Founder
With 20 years of conservation and development experience, Ms. Stein works to reduce human-wildlife conflict around the world by building markets and wildlife friendly supply chains for goods and services that achieve triple-bottom-line goals of people, profit, and planet. She leads signature efforts to link certified enterprises which protect the worlds most endangered wildlife with global partners in the food, health and beauty, textile and tourism sectors. Ms. Stein consults with Corporate Members seeking to achieve conservation goals in high biodiversity landscapes and participates in public-private partnerships to quantify and improve  outcomes in raw materials sourcing for the benefit of people and wildlife around the world. She is a co-founder of the Wildlife Friendly Enterprise Network and Certified Wildlife Friendly®. Ms. Stein holds a B.A. in Art History from the University of Virginia, and a M.E.S. in Conservation Biology from the Yale School of Forestry. Ms. Stein can be reached via: Julie@wildlifefriendly.org
---
Marissa Balfour, Assistant to the Executive Director

Ms. Balfour works to develop integrated strategies for biodiversity conservation and provides general assistance to further the overall mission of WFEN. She supports WFEN operations by building linkages with academic, industry, and professional partners and multilateral organizations. Ms. Balfour also works as the Biodiversity Specialist at Textile Exchange, and previously has worked with Conservation International, EplerWood International, World Animal Protection, the National Parks Conservation Association, the Biodiversity Research Institute, and the Smithsonian Institution, among others. She has assisted with projects for the IUCN, UNEP, and other organizations, and served as the U.S. Youth Delegate to the 16th Conference of the Parties of the Convention on International Trade in Endangered Species (CITES). Ms. Balfour serves as a member of the IUCN Tourism and Protected Areas Specialist Group (TAPAS) and is a charter member of the TAPAS Biodiversity Working Group. She holds a B.A. in Human Ecology from College of the Atlantic and an M.A. in Environmental Studies from Prescott College with a focus in Conservation Science and Policy. Ms. Balfour can be reached via: Marissa@wildlifefriendly.org
---
Abigail Breuer, Agriculture and Industry Associate
Ms. Breuer works with ranchers and herders on means to fit wildlife and livestock on the landscape and monitor the impact of agricultural practices on rangelands in various locations around the globe. She has developed standards that connect producers of Wildlife Friendly foods and fibers with new markets and also aides WFEN Corporate Members to achieve sustainability targets. Ms. Breuer feels privileged to interact with farms, ranches and supply chain partners pioneering production practices that support biodiversity conservation and rural livelihoods. Breuer holds a B.A. in Biology and Economics from Pomona College and a M.S. in rangeland ecology from the University of California at Davis. Ms. Breuer can be reached via: Abigail@wildlifefriendly.org
---
Dr. Liz Macfie, Consultant
Dr. Liz Macfie is a veterinarian with twenty years' experience in great ape conservation, much of that focused on gorillas. Her doctorate included a specialty in wildlife population medicine, which led her to Rwanda, directing the Mountain Gorilla Veterinary Project and then on to Uganda setting up gorilla tourism and conservation initiatives for the International Gorilla Conservation Programme. Recently Liz served as Gorilla Coordinator for the Wildlife Conservation Society and is now a consultant supporting projects to improve management and impact of ape conservation programs. Liz is the lead author of the Best Practice Guidelines for Great Ape Tourism, produced by the IUCN Primate Specialist Group.
---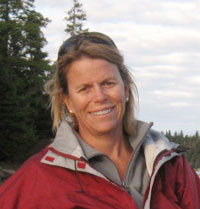 Melly Reuling, Consultant
Melly Reuling uses the lens of community-based conservation and coexistence to engage landowners in conservation initiatives. Her graduate research on elephants in East Africa led to the initiation of community conservation projects around national parks to find solutions to the elephant-human conflict. With over 20 years of experience in human-wildlife conflict resolution, she is well-versed in combining scientific knowledge with best management practices to holistically engage and encourage private landowners and communities to live in balance with their ecosystems. From a family with ranching ties in Montana, Ms. Reuling understands the seamless interconnection between agriculture, wildlife and wilderness landscapes. A former NOLS instructor and mountain guide she is also the co-founder of the ecotourism safari company, African Environments, in Tanzania. Ms. Reuling now lives in Bozeman MT and holds a M.S. in wildlife ecology from the University of Washington.