Nuxalbari Tea Estate Becomes Second Enterprise in the World to Earn Elephant Friendly™ Certification
Darjeeling Tea Plantation Works to Secure a Future for Wild Elephants through Coexistence
FOR IMMEDIATE RELEASE
AUGUST 6, 2018 – DARJEELING – The Wildlife Friendly Enterprise Network (WFEN) and the University of Montana (UM) are pleased to announce the certification of the historic Nuxalbari Tea Estate, the first large acreage tea producer to be recognized under the Certified Elephant Friendly™ Tea program. Nuxalbari Tea Estate is a 1200-acre woman-owned and operated tea estate in Darjeeling District of West Bengal, India. This newly certified enterprise is the second globally to receive this recognition, and the first in Darjeeling District. The Elephant Friendly™ Tea certification program establishes stringent certification standards for the protection of endangered Asian elephants and the reduction of human-elephant conflict. This innovative effort is being spearheaded through a partnership between WFEN, a global community dedicated to the development of enterprises that contribute to the conservation of threatened wildlife and to the economic vitality of rural landscapes, and conservation biologists and sustainability-focused business experts at the University of Montana, to connect tea growers, sellers and consumers in a farm-to-cup approach.
Engaging tea growers as active partners in elephant conservation is critical to the future of Asian elephants in the wild. Agricultural lands planted for tea production can play a vital role as corridors of movement between natural areas. Tea plantations often serve as nurseries where elephant mothers give birth and rest for a few days until their newborn babies are strong enough to move with the herd. However, agricultural practices on tea estates can present potential dangers for elephants. Drainage ditch hazards can trap elephants, especially juveniles. Improperly installed electric fencing or sagging electricity lines can pose electrocution risks for elephants. Chemicals used in conventional tea production, if not stored securely or applied judiciously, can poison elephants. Blocking of elephant corridors with fencing or walls can disrupt age-old patterns of movements of elephant herds. Human-elephant conflict can have grave consequences for both elephants and tea worker communities.
Nuxalbari Tea Estate, established in 1884, has been within the same family for four generations with operations currently led by Sonia Jabbar, a fifth-generation tea planter, conservationist, polo player and single mother. "Elephants are living bodhisattvas," says Ms. Jabbar, "We humans can learn a lot from them. They are big and powerful, but choose to remain patient with us despite the fact that we rob them of their forests, tease, harass, and even kill them. It is our duty to protect these gentle giants and we must learn to peacefully co-exist with them on this beautiful earth. I am very grateful to WFEN and the University of Montana (UM) for recognizing and supporting our work."
As a result of Ms. Jabbar's efforts for the past 7 years, Nuxalbari Tea Estate has become a safe haven for wild elephants as they move between shrinking fragments of forests in north Bengal. In order to reduce human-elephant conflict the estate's security guards are trained to maintain a 400-meter safe corridor for elephants to pass through unharmed. Other projects to promote biodiversity within the tea estate include the establishment of a 100-acre re-wilding project for native species including elephants. Ms. Jabbar leads a Hathi Sathi nature club for the children of tea workers to encourage a new generation of "Barefoot Conservationists." To address the concerns of neighboring farmers affected by hungry elephants that raid their fields and cause economic distress to an already struggling population, there are future plans to establish a fund for crop insurance to cover economic losses caused by elephants. Coexistence between humans and elephants requires significant buy-in from the local community and forest officials, and Ms. Jabbar hopes to inspire other tea growers to embark on similar efforts.
"Elephant Friendly™ tea certification provides an opportunity for tea consumers to reward tea growers for changing practices that have negative impacts on elephant populations and enables companies to tell a story of coexistence to consumers," said WFEN Executive Director and co-founder Julie Stein, "and we are thrilled to welcome our first woman-owned certified tea grower into the Wildlife Friendly™ family of brands."
Lisa Mills, who serves as the liaison for the University of Montana on this project, explains: "We have completed a full year of testing the consumer market and have found that when Certified Elephant Friendly™ tea products are offered as a choice amongst otherwise similar quality products, consumers prefer knowing their dollars are making a difference for elephants. As of August 2018, more than 50 companies are carrying Certified Elephant Friendly™ tea products."
Since the early 1800's tea consumption has been on the rise, and today it is the most popular beverage worldwide. Tea plantations have replaced much of the natural habitat of Asian elephants and other species. Habitat loss and the associated human-elephant conflict, which often lead to loss of life for both people and elephants, have contributed significantly to the decline of Asian elephant populations. According to the IUCN Red List, Asian elephants, or Elephas maximus, are an endangered species, with an estimated 40,000-50,000 remaining across their range countries, a decline of over 50% in the last 75 years. India holds at least 50% of the remaining population and is the world's second largest tea producer, with tea lands primarily located in areas historically inhabited by elephants. 
 By purchasing Elephant Friendly™ tea consumers are helping sustain wild elephant populations and to secure their future. Interested companies and consumers can learn more at http://elephantfriendlytea.com and http://wildlifefriendly.org/specie/asian-elephant
###
About the Wildlife Friendly Enterprise Network 
WFEN and its certification programs represent grassroots farmers, ranchers, artisans, indigenous peoples and conservation heroes from around the world, including two World Bank Development Marketplace Award winners, a U.N. Equator Prize winner, leadership in the world's marketplace for REDD+ Carbon Offsets, and a Time Hero for the Planet. Certified Wildlife Friendly® products contribute to the conservation of over twelve million hectares of diverse wetlands, forests, and grasslands; protect keystone endangered species in Asia, Africa, Europe, and Latin and North America I including the snow leopard, tiger, elephant, cheetah, red panda, and wolf I and benefit over 200,000 people through increased food security, income and employment. For more information visit: www.wildlifefriendly.org
About the University of Montana 
The University of Montana (UM), located in Missoula, Montana, USA, is a higher education institution, home to the top ranked Wildlife Biology Program in North America and award-winning research, outreach and business innovation programs. The Elephant Friendly™ Program is a partnership between the University of Montana's Broader Impacts Group, the Wildlife Friendly Enterprise Network, and business and conservation science advisors from across the globe. The UM Blackstone Launchpad and UM School of Business provide additional planning and marketing support. For more information visit: https://www.umt.edu/research/ 
Contact:
Wildlife Friendly Enterprise Network: 
Julie Stein at Julie@wildlifefriendly.org 


University of Montana: 
Lisa Mills at lisa.mills@umontana.edu
Windshadow Farm Maintains Threatened Avian, Amphibian and Reptilian Species While Producing High Quality Milk
FOR IMMEDIATE RELEASE
BANGOR, MI (05 October 2015) Ronald and Suzanne Klein of Windshadow Farm are the first in the state of Michigan to be recognized as Certified Wildlife Friendly®, due to stewardship of wetlands and habitat for species from amphibians and reptiles to ground-nesting birds and a host of raptors. Windshadow Farm ensures the health of its 150-head dairy goat herd in concert with its surroundings. Attention to detail enables the success of a diverse away of wildlife including the ground-nesting bobolink, a songbird, and state-listed snake and frog species of special concern.Great Pyrenees Windshadow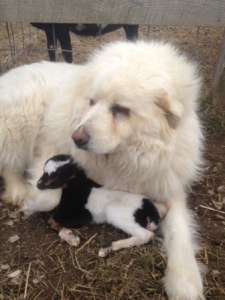 Ron traces his appreciation for nature to childhood exploration of the marshes of Lake Huron and Lake Erie while working on his grandfather's and uncle's dairy farms. In nearly 5 years at its present location, careful nutrient management has resulted in improved soil, pasture, and habitat on Windshadow Farm's 46 acres. "We take great pleasure in sighting wildlife and sharing with friends," says Ron. Windshadow Farm times grazing by its pasture-fed goats to ensure nutrient-dense forage. The results show in the milk, allowing for production of high quality cheeses that are distributed throughout western Michigan and in Chicago, under the Evergreen Lane Artisan Cheese label.
The natural areas surrounding Windshadow Farm allow for migration of coyotes and fisher through a marsh extending from the Black River. Two Great Pyrenees livestock guardian dogs are with the dairy herd at all times, and vulnerable animals are gathered within a secured dry lot at night. "The bonding [between the dogs and the goats] is incredible," says Ron, noting that one newborn kid snuggled up with one of the dogs, Libby, when it became separated from its mother.
Ronald and Suzanne enjoy identifying the multiple species of turtles, frogs, toads and snakes found on the property and regularly see egrets, herons, and sandhill cranes, along with a host a raptors. Instead of draining seasonally-wet areas, the farm has developed a management intensive grazing system around them. "We maintain a grassed perimeter around our pastures and time our hay crop and grazing to protect ground-nesting birds and capture rain water," says Ron. Ron and Suzanne believe they are seeing an increase in native pollinators due to their careful management and efforts to work with nature. The return of pollinators, along with more amphibians and reptiles, are signs of a healthy ecosystem on Windshadow Farm.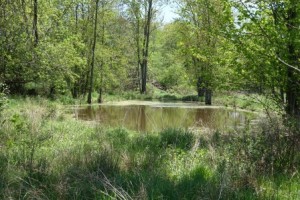 "We're trying to farm as environmentally responsibly as we can," says Ron. From the use of solar power to heat the dairy parlor's water and to run the farm's Polaris, Windshadow Farm considers its responsibility to future generations integral to its work. "Third-party recognition as Certified Wildlife Friendly® is important to our farm," says Ron. "It provides a goal for us based on standards and knowledge. More importantly, it is recognition that legitimizes to our community what we all need to do in order to have a decent world for our grandkids and beyond."
In addition to its Wildlife Friendly® certification, Windshadow Farm & Dairy is certified for its high-welfare animal care by the Animal Welfare Approved program. The farm is also a Michigan Grade A Dairy and certified for Livestock, Homestead and Cropping under the Michigan Agricultural Environmental Assurance Program. Further, Ron and Suzanne also serve on the board of directors of the Michigan Land Trustees, an organization that has promoted local food, small farms, and rural revitalization since 1976.
##
About Windshadow Farm
Windshadow Farm raises and milks a herd of pasture-raised Lamancha, Alpine, Nubian, Saanen dairy goats under the watchful eyes of 2 resident Great Pyrenees livestock guardian dogs. The farm operates in partnership with Evergreen Lane Creamery. Evergreen Lane Artisan Cheese from Windshadow Farm's quality milk can be found throughout Western Michigan, at the Evergreen Farm tasting room in Fennville, MI, and in Chicago. For more information, see Evergreen Lane Farm & Creamery or call (269) 599-0467.
About Wildlife Friendly Enterprise Network
The Wildlife Friendly Enterprise Network and its Certified Wildlife Friendly®and Predator Friendly® programs represent farmers, ranchers, artisans and conservation heroes from around the world. Participating farms in North America maintain and enhance wildlife habitats and employ a mix of careful observation and proactive practices to allow wildlife and livestock to coexist.
Certified Wildlife Friendly® products contribute to the conservation of over twelve million hectares of diverse wetlands, forests, and grasslands; protect keystone endangered species in North America, Africa, Asia and Latin America, including wolves, elephants, cheetahs, spectacled bears and snow leopard, and benefit over 200,000 people through increased food security, income and employment. For more information visit: WildlifeFriendly
Contact: Julie Stein: Julie@wildlifefriendly.org
Cuddle Coop Farms Offers Habitat and Home-Grown Ingredients
FOR IMMEDIATE RELEASE
WILLIAMSBURG, KY (September 9, 2015) Running an 8-acre farm near the 700,000 acre Daniel Boone National Forest, one of the most rugged areas in South Central Kentucky, Greg Sims and his wife, Cathy don't mind the idea of sharing a little of his bounty with wild neighbors. Yet, he is careful to ensure his small flock of laying hens, young goats and bee hives do not become easy prey for area wildlife.
"If there are critters around, we've got them," notes Greg. The Daniel Boone Forest is home to black bear, bobcats and coyotes, along with several endangered bat species.
Greg has a made a number of adaptations to ensure predators don't get an easy meal from his farm, despite being open to wildlife passage and having 4 acres of woods. He uses a highly-secure shed to house his chickens and goats at night. And, he and his dogs are a frequent presence around the farm throughout the day when the animals are out on pasture.
To protect the coop against hawks, Greg zig-zagged nylon cord above the run, strung with old compact disks, which glint in the sun and rotate in the breeze. While abundant on the property, "I haven't had a hawk come near the coop in almost 3 years" says Greg. A heavy door and secure opening mechanism keep out possums, raccoons, and foxes, among other potential visitors.
Cuddle Coop Farms achieved Certified Wildlife Friendly® status for its proactive attention to coexistence with wildlife. With dairy goats and honey bees as recent additions to the farm, electric fence and motion detector lights may soon join the Cuddle Coop's mix of practices. Even more than honey, the pupae, larvae and eggs can serve as a strong attractant to bears.   So far, Greg has found that keeping his livestock secure is both good stewardship and a good investment.
"I've always been an outdoors guy," says Greg, mindful that not too many retired individuals take on the labor of farming as a later-life career. With a market garden dedicated to heirloom vegetables, home-canned products and specialty baked goods prepared by Greg's wife, Cathy, as regular offerings at 3 weekly farmer's markets, the Sims family has to fit relaxation into a demanding lifestyle. Greg expects goat's milk and bee products to become a prominent addition to offerings as his livestock mature.
As a transplant from New Jersey, Greg understands the luxury of having a nearest neighbor one-half mile down the road and elbow room for people and wildlife. "New Jersey was called the Garden State for a reason," he said. With so many family farms in northeast having been converted to housing, Greg is delighted to be surrounded by public land and neighboring farms: "I'm an old marine vet, exploring something I always thought I might want to do.
##
About Cuddle Coop Farms
Cuddle Coop Farms is a family farm in Eastern Kentucky that produces eggs from heritage Black & Lavender English Orpington, Brahma, and Wyandotte hens, along with heirloom vegetables, baked goods, and canned goods including vegetables, salsa, jams, jellies. The farm also offers Jersey Style Dirty Dogs (hot dogs) at 3 farmer's markets per week. Now Certified Wildlife Friendly® for its land management practices, the farm is run by a retired Marine Corps Veteran and his wife. Cuddle Coop Farms is also certified as Kentucky Proud, Appalachian Proud and Homegrown By Heroes. For more information, visit Cuddle Coop Farms on Facebook.
About Wildlife Friendly Enterprise Network
The Wildlife Friendly Enterprise Network and its Certified Wildlife Friendly® and Predator Friendly® programs represent farmers, ranchers, artisans and conservation heroes from around the world. Participating farms in North America maintain and enhance wildlife habitats and employ a mix of careful observation and proactive practices to allow wildlife and livestock to coexist.
Certified Wildlife Friendly® products contribute to the conservation of over twelve million hectares of diverse wetlands, forests, and grasslands; protect keystone endangered species in North America, Africa, Asia and Latin America, including wolves, elephants, cheetahs, spectacled bears and snow leopard, and benefit over 200,000 people through increased food security, income and employment. For more information visit: www.wildlifefriendly.org