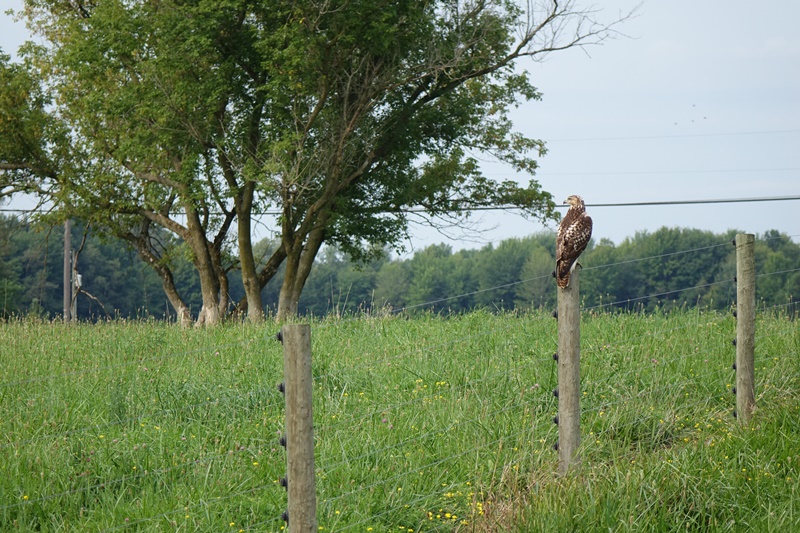 First Michigan Farm Certified Wildlife Friendly for Careful Stewardship of Land and Livestock
Windshadow Farm Maintains Threatened Avian, Amphibian and Reptilian Species While Producing High Quality Milk
FOR IMMEDIATE RELEASE
BANGOR, MI (05 October 2015) Ronald and Suzanne Klein of Windshadow Farm are the first in the state of Michigan to be recognized as Certified Wildlife Friendly®, due to stewardship of wetlands and habitat for species from amphibians and reptiles to ground-nesting birds and a host of raptors. Windshadow Farm ensures the health of its 150-head dairy goat herd in concert with its surroundings. Attention to detail enables the success of a diverse away of wildlife including the ground-nesting bobolink, a songbird, and state-listed snake and frog species of special concern.Great Pyrenees Windshadow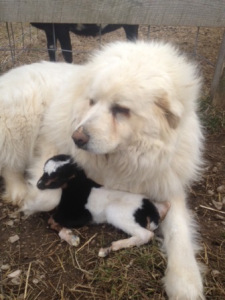 Ron traces his appreciation for nature to childhood exploration of the marshes of Lake Huron and Lake Erie while working on his grandfather's and uncle's dairy farms. In nearly 5 years at its present location, careful nutrient management has resulted in improved soil, pasture, and habitat on Windshadow Farm's 46 acres. "We take great pleasure in sighting wildlife and sharing with friends," says Ron. Windshadow Farm times grazing by its pasture-fed goats to ensure nutrient-dense forage. The results show in the milk, allowing for production of high quality cheeses that are distributed throughout western Michigan and in Chicago, under the Evergreen Lane Artisan Cheese label.
The natural areas surrounding Windshadow Farm allow for migration of coyotes and fisher through a marsh extending from the Black River. Two Great Pyrenees livestock guardian dogs are with the dairy herd at all times, and vulnerable animals are gathered within a secured dry lot at night. "The bonding [between the dogs and the goats] is incredible," says Ron, noting that one newborn kid snuggled up with one of the dogs, Libby, when it became separated from its mother.
Ronald and Suzanne enjoy identifying the multiple species of turtles, frogs, toads and snakes found on the property and regularly see egrets, herons, and sandhill cranes, along with a host a raptors. Instead of draining seasonally-wet areas, the farm has developed a management intensive grazing system around them. "We maintain a grassed perimeter around our pastures and time our hay crop and grazing to protect ground-nesting birds and capture rain water," says Ron. Ron and Suzanne believe they are seeing an increase in native pollinators due to their careful management and efforts to work with nature. The return of pollinators, along with more amphibians and reptiles, are signs of a healthy ecosystem on Windshadow Farm.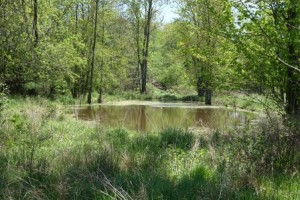 "We're trying to farm as environmentally responsibly as we can," says Ron. From the use of solar power to heat the dairy parlor's water and to run the farm's Polaris, Windshadow Farm considers its responsibility to future generations integral to its work. "Third-party recognition as Certified Wildlife Friendly® is important to our farm," says Ron. "It provides a goal for us based on standards and knowledge. More importantly, it is recognition that legitimizes to our community what we all need to do in order to have a decent world for our grandkids and beyond."
In addition to its Wildlife Friendly® certification, Windshadow Farm & Dairy is certified for its high-welfare animal care by the Animal Welfare Approved program. The farm is also a Michigan Grade A Dairy and certified for Livestock, Homestead and Cropping under the Michigan Agricultural Environmental Assurance Program. Further, Ron and Suzanne also serve on the board of directors of the Michigan Land Trustees, an organization that has promoted local food, small farms, and rural revitalization since 1976.
##
About Windshadow Farm
Windshadow Farm raises and milks a herd of pasture-raised Lamancha, Alpine, Nubian, Saanen dairy goats under the watchful eyes of 2 resident Great Pyrenees livestock guardian dogs. The farm operates in partnership with Evergreen Lane Creamery. Evergreen Lane Artisan Cheese from Windshadow Farm's quality milk can be found throughout Western Michigan, at the Evergreen Farm tasting room in Fennville, MI, and in Chicago. For more information, see Evergreen Lane Farm & Creamery or call (269) 599-0467.
About Wildlife Friendly Enterprise Network
The Wildlife Friendly Enterprise Network and its Certified Wildlife Friendly®and Predator Friendly® programs represent farmers, ranchers, artisans and conservation heroes from around the world. Participating farms in North America maintain and enhance wildlife habitats and employ a mix of careful observation and proactive practices to allow wildlife and livestock to coexist.
Certified Wildlife Friendly® products contribute to the conservation of over twelve million hectares of diverse wetlands, forests, and grasslands; protect keystone endangered species in North America, Africa, Asia and Latin America, including wolves, elephants, cheetahs, spectacled bears and snow leopard, and benefit over 200,000 people through increased food security, income and employment. For more information visit: WildlifeFriendly
Contact: Julie Stein: Julie@wildlifefriendly.org