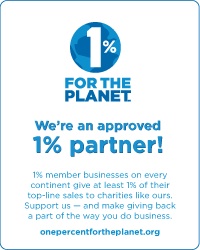 Certified Wildlife Friendly™  is pleased to announce they are the newest nonprofit partner of 1% for the Planet, an alliance of over 1,380 member companies in 43 countries that give one percent of revenues to environmental causes.
Certified Wildlife Friendly™ is now eligible to receive donations from 1% member companies, placing them among a diverse, global network of environmental organizations.  1% member businesses fuel this non-profit network through their annual contributions, which totaled over $22 million in 2010.  Partnership with 1% greatly expands the potential pool of funding to which  Certified Wildlife Friendly™ can look to for support.
Newly approved   Certified Wildlife Friendly™  contributes to a healthier planet by protecting wildlife in wild places through certifying enterprises that assure people and nature coexist and thrive.
Over 2,300 non-profits worldwide are included in the 1% network, and over $70 million has been funneled to its nonprofit partners to date.  "The intent of 1% for the Planet is to help fund these diverse environmental organizations so that collectively they can be a more powerful force in solving the world's problems," Yvon Chouinard, founder of 1% for the Planet.
Certified Wildlife Friendly™ represents grassroots producers, artisans and conservation heroes from around the world including two World Bank Development Marketplace Award winners, a U.N. Equator Prize winner, leadership in the world's marketplace for REDD Carbon Offsets, a Time Hero for the Planet, and a National Geographic Big Cats Initiative grantee.  "By using the power of educated consumers to create change on the ground, Certified Wildlife Friendly™ creates incentives for the protection of the some of the most endangered wildlife; provides opportunities for some of the least economically advantaged communities; and contributes to the conservation of some of the most spectacular landscapes in the world" said Executive Director Julie Stein.
About 1% for the Planet
Started in 2002 by Yvon Chouinard, founder and owner of Patagonia, and Craig Mathews, owner of Blue Ribbon Flies, 1% for the Planet is a growing global movement of over 1,350 member companies in 43 countries that donate one percent of their sales to environmental organizations worldwide. Each day, more than one new business joins the 1% for the Planet movement. As a network, the 1% community has become a frontrunner in funding the work of environmental groups around the world. To learn more about 1% go to: www.onepercentfortheplanet.org
About Certified Wildlife Friendly™
There are now a dozen enterprises that have been awarded Wildlife Friendly Certification. These enterprises protect over 100 endangered species in Asia, Africa, Latin America and the U.S.; conserve over twelve million hectares of diverse habitats (wetlands, forests, grasslands); and benefit over 200,000 people who co-exist with wildlife through direct ownership, full and/or part-time employment. Products include: fibers (yarns, 'green' cashmere' and hand made products); jewelry, apparel and accessories; food and spices; semi- processed ingredients (essential oils, herbs); handmade paper; and green energy products. These products are sold in local, regional and export markets. Certified Wildlife Friendly™ products are being featured by Whole Foods, General Mills, Puma, Walmart, Aveda, S&D Group, among other top retail outlets working to provide quality products to their customers while promoting conservation and community development.