Argentine Brand Julieta Grana Launches Wildlife Friendly™ Fibers for FW2021 Line
FOR IMMEDIATE RELEASE
BUENOS AIRES ARGENTINA – 8 JUNE 2021 – Julieta Grana recently joined the select group of Argentine brands to feature Certified Wildlife Friendly™ (WFEN) fibers in her newest line. Working with mohair and merino wool, Grana's purchase of these sustainably sourced fibers makes both her brand and its consumers active participants in the conservation of Argentina's wildlife. Species like guanacos, a migratory camelid that has coevolved with and shaped the country's iconic grasslands, the rhea, a giant flightless bird, and the puma, the apex predator of Patagonia, find safe havens on the ranches and lands certified by this program.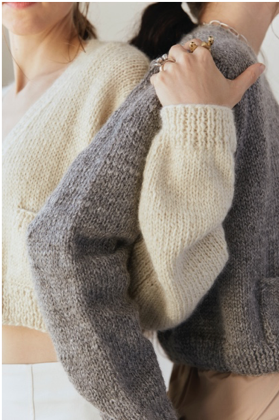 As a conscious brand, Julieta Grana has been committed from its beginning to responsible production by sourcing in small batches, creating partnerships with independent local suppliers, and actively participating in each stage of the production chain.
"Our value proposition is about garments that will last a lifetime, are unique and made by hand. Each piece honors an Argentine sourced raw material and local artisans with traditional knowledge. We seek out suppliers who can guarantee a quality raw material, which is aligned with our values from its origins and production. For us it is a great pleasure and responsibility to be part of this project," said Julieta Grana.
Back at the other end of the supply chain the on-the-ground partner in this effort is the Wildlife Conservation Society in Argentina (WCS) managing the monitoring and compliance commitments of the producers. Certified producers commit to using sustainable practices and non-lethal tools to protect livestock and mitigate conflicts with the native carnivores and scavengers of Patagonia.
"Thanks to land use changes and conservation measures in Patagonia in recent decades, carnivores that frequently attack livestock, like pumas and culpeo foxes, have increased in density and distribution throughout the region. Mitigating the conflict between these carnivores and livestock we help other components of the ecosystem, such as threatened Andean condors and Andean cats, which often suffer the consequences of lethal protective measures that herders implement when they do not have access to protective tools like guarding dogs", says Andrés Novaro, INIBIOMA-CONICET (Argentine Science Agency) researcher and Senior Consultant for WCS Argentina.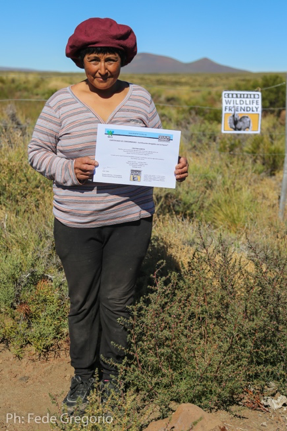 "One of the most interesting aspects of this certification is that it is not about imposing certain management conditions on the producer and then auditing compliance with them, but that it rather involves working together to solve a problem: the conflict between livestock and wild carnivores. It is the decision to change the paradigm and achieve livestock production that develops in harmony with the environment," explains Ezequiel Infantino, who is WCS Argentina´s Field Work Coordinator in Neuquén province.
There is growing interest from herders in this effort. Flavio Castillo is a producer from the Cooperativa Agropecuaria de Comercialización de Pequeños Productores de Neuquén, certified by WFEN, who works together with WCS to promote coexistence.
Said Castillo: "Predator attacks are common, and losses are significant. There are several species of carnivores, such as puma, fox, wildcat, pampa´s cat, and Andean cat. We adopted non-lethal tools because even though we have always been hunting, trapping, killing carnivores…it has never been effective in reducing our losses."
A livestock guardian dog, dubbed 'Ezequiel' after the WCS coordinator of the program, was provided to the herders by WCS Argentina and represents a hopeful solution for Mr. Castillo.
"With the dog, we can co-exist with carnivores and protect our livestock." Castillo says. "Wildlife belongs here, and we have to protect and co-exist with it."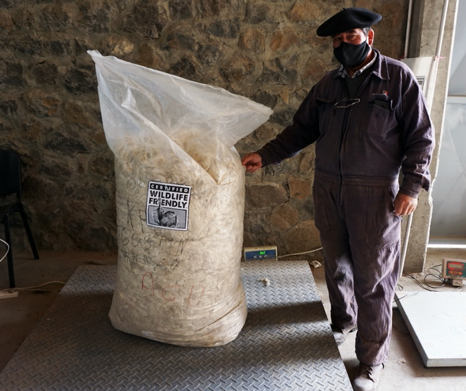 For WFEN, this is a model project that it is hoped can be scaled across Argentina and around the world.
"WCS in Argentina and WFEN have a longstanding collaboration working together for conservation of wildlife and rancher and herder livelihoods – our efforts are now yielding dividends for both. We are thrilled to welcome Julieta Grana to the Wildlife Friendly™ family of brands and our sustainable fashion network. The brands who are sourcing these fibers have garnered consistent media attention from the fashion industry and have become 'ambassadors' for Wildlife Friendly™ fibers showcasing how sustainable homegrown fibers can help revive the local fiber processing industry and contribute to the Argentine economy – all elements of a successful 'fibershed'," said Julie Stein, Executive Director and Co-founder of WFEN.
Julieta Grana's new line can be purchased online or at her Buenos Aires boutique located at El Salvador 5894, Buenos Aires, Argentina or through her online store.
###
About Julieta Grana
Instagram: @julietagrana
Email: contacto@julietagrana.com
Website: www.julietagrana.com.ar
About the WCS Argentina
WCS saves wildlife and wild places worldwide through science, conservation action, education, and inspiring people to value nature. To achieve our mission, WCS harnesses the power of its Global Conservation Program in nearly 60 nations and in all the world's oceans. Active in Argentina since the 1960s, it works to preserve the diversity of wildlife that makes this country unique and to restore its landscapes in the face of growing threats. For more information visit: https://argentina.wcs.org/, follow: @WCSArgentina, or contact Florencia Lemoine, Communications Officer, flemoine@wcs.org, +54 9 11 33171923
About Wildlife Friendly Enterprise Network
WFEN and its certification programs represent grassroots farmers, ranchers, herders, artisans, indigenous peoples and conservation heroes from around the world including two World Bank Development Marketplace Award winners, a U.N. Equator Prize winner, leadership in the world's marketplace for REDD+ Carbon Offsets, and a Time Hero for the Planet. Wildlife Friendly® products contribute to the conservation of over fourteen million hectares of diverse wetlands, forests, and grasslands; protect keystone endangered species in Asia, Africa, Europe, and Latin and North America, including the slow loris, snow leopard, elephant, cheetah, red panda, and wolf; and benefit over 400,000 people through increased food security, income and employment. For more information visit: www.wildlifefriendly.org, Instagram: @wildlifefriendly, Twitter: @wfen
Contact
Julieta Grana: contacto@julietagrana.com
WCS: einfantino@wcs.org
WFEN: Julie@wildlifefriendly.org