2nd Life & WFEN Join Forces to Save Wildlife & Support Local Communities


Wildlife Friendly Enterprise Network becomes first wildlife conservation organization to benefit from 2nd Life's Electronics Buy Back Program for nonprofits
RICHMOND, VIRGINIA – MAY 30 2018 2nd Life, a Richmond based company whose mission is to responsibly repurpose pre-owned consumer electronics and computing assets via proprietary remarketing techniques and cutting edge repair capabilities, has launched an exciting new partnership with the Wildlife Friendly Enterprise Network (WFEN) to benefit the world's most endangered wildlife called "Cash in for Wildlife."
The world generates over 44.7 million metric tonnes of e-waste – or 4500 Eiffel Towers – annually, according to the United Nations report Global E-waste Monitor 2017, with only 20% of that recycled through appropriate channels. This presents a challenge to sustainable development and achievement of the Sustainable Development Goals (SDGs). The amount of e-waste is expected to increase to 52.2 million metric tonnes by 2021. The UN estimated the total value of all raw materials present in e-waste to be approximately 55 Billion Euros in 2016, which is more than the 2016 Gross Domestic Product of most countries in the world. With many product life cycles measured in months as consumers trade up to newer technology, and a higher percentage of consumers owning multiple devices, circular economy models need to be adopted to encourage "closing the loop" through recycling while also mitigating pollution of the environment.
E-waste at the end of its life cycle includes toxic chemicals such as arsenic, mercury, flame-retardants and lead. When illegally or improperly disposed of these toxins seep into the ground, polluting soil and groundwater and contaminating microorganisms which fish feed upon; improper burning of e-waste releases toxins into the air.   E-waste exposure can lead to diseases such heart disease, cancer and can damage DNA. Children are especially vulnerable to these health risks from e-waste exposure. Once food is contaminated these toxins and heavy metals move up the food chain leading to bioaccumulation and biomagnification in apex predators including humans.
"The electronics industry impacts humans, the environment and wildlife at both ends of its life cycle" said WFEN Director and Co-founder Julie Stein. "At the source, profits from illegally mined 'conflict minerals' like tin, tantalite or coltan, tungsten and gold, from the eastern part of the Democratic Republic of Congo, contribute to ongoing violence in the country and illegal miners living inside protected areas are negatively affecting endangered wildlife including the critically endangered Grauer's Gorilla whose numbers have declined by 77%, as well as the endangered Eastern Chimpanzee, and the endangered Okapi which is only found in the DRC and whose population has plummeted by 50% due to the related triple threats of deforestation, mining and bushmeat hunting by illegal miners. Our enterprise model is to create alternative livelihood opportunities such as Wildlife Friendly™ sustainable farming, tourism and handicrafts for the benefit of wildlife and communities so that they do not have to resort to illegal activities which harm the environment. This new partnership with 2nd Life will help us on several fronts to achieve our mission."
"We designed our proprietary consumer electronics buyback platform to support retailers like Best Buy and Amazon by offering a turnkey solution so that their customers can trade-in their no longer needed electronics towards purchase of new items," said Seth Schmidt, Chief Marketing Officer for 2nd Life. During 2016 we identified an opportunity to create a fundraising oriented platform, building on what we learned serving the for-profit sector. Essentially, the fundraising solution allows consumers to sell their used electronics from over a dozen popular categories including smartphones, tablets, laptops, drones, digital cameras and more in order to support the causes that mean the most to them. Consumers are paid a competitive value for their items and can elect to donate all or a portion of their payment to the cause, in this case, the Wildlife Friendly Enterprise Network."
According to Michael Feibelman, President and CEO of 2nd Life, the company has three solutions to address these challenges: IT Asset Disposition for responsible end-of-life corporate computing and mobile asset refreshes; community electronic waste collection services; and now, the buyback solution that supports non-profits like WFEN and others. The goal of The 2nd Life buyback program is to generate an ongoing revenue stream for these organizations and their partners by utilizing the 2nd Life Consumer Electronics Buyback Program, which allows consumers to quickly and easily get paid for their pre-owned consumer electronics while at the same time supporting a cause, in this case helping to protect wildlife around the world.
"We are extremely grateful to Michael and his team at 2nd Life for their interest in our work and are proud to be their first and only wildlife conservation partner," said Ms. Stein. "This partnership makes 2nd Life our newest Founding Corporate Network member along with other leading edge sustainability companies."
For companies or individuals who would like to become part of this program with 2nd Life to benefit wildlife please contact Seth Schmidt at 2nd Life or visit https://wfen.fundello.org to cash in your digital cameras and camcorders, cell phones, laptop computers, drones, and more for the benefit of the world's endangered wildlife.
###
About 2nd Life
2nd Life extends the useful life of all electronics through it's primary services of IT asset disposition (ITAD) for the enterprise, consumer based trade-in and buyback solutions for retailers, manufacturers, non-profits and schools and it's expertise in electronics repair all the way up to circuit board level work. For more information, visit https://2ndlifeinc.com
About Wildlife Friendly Enterprise Network
WFEN and its family of brands represent grassroots farmers, ranchers, artisans, indigenous communities and conservation heroes from around the world including two World Bank Development Marketplace Award winners, a U.N. Equator Prize winner, leadership in the world's marketplace for REDD+ Carbon Offsets, a Time Hero for the Planet, and a National Geographic Big Cats Initiative grantee. Certified Wildlife Friendly® products contribute to the conservation of over twelve million hectares of diverse wetlands, forests, and grasslands; protect keystone endangered species in Asia, Africa, Europe, the Americas, including the Snow Leopard, Elephant, Cheetah, and Wolf; and benefit over 200,000 people through increased food security, income and employment. For more information visit: www.wildlifefriendly.org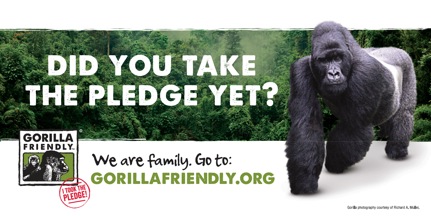 FOR IMMEDIATE RELEASE
Online Pledge Makes Tourists Partners in Conservation of Gorillas in the Wild
Kigali, Rwanda, 20 June 2014 – The International Gorilla Conservation Programme (IGCP) and Wildlife Friendly Enterprise Network (WFEN) announce the launch of the Gorilla Friendly™ Pledge, an awareness raising campaign developed to minimize the risk of disease transmission from human to gorilla, during treks to see these magnificent great apes in the wild.
Launched to coincide with the peak gorilla trekking tourist season and Kwita Izina, the annual baby gorilla naming ceremony which takes place in Rwanda on July 1, Gorilla Friendly™ Pledge will serve to safeguard gorillas by minimizing the risk of disease transmission or behavioral change as a result of exposure to people.
"Conscientious mountain gorilla tourism has contributed to one of the world's true conservation success stories. By demonstrating that gorillas and their forest habitat can provide real and lasting benefits to people and economies, people living around the parks have become their guardians," states Anna Behm Masozera, Director of the coalition International Gorilla Conservation Programme. "But we cannot be complacent and now is the time to better equip tourists with the tools to become gorilla guardians as well. This Pledge aims to empower tourists visiting any of the gorilla subspecies in the wild across Africa with information as to the regulations in place for gorilla tourism to make these often once-in-a-lifetime experiences even more valuable – to their experience and to the gorillas."
The Pledge outlines ten simple things that incoming gorilla tourists can do before, during and after their visit, including providing feedback on their experience.
The content of the Pledge originates from existing visitation rules and regulations defined by the leading experts on great apes and outlined in the International Union for the Conservation of Nature (IUCN) Best Practice Guidelines for Great Ape Tourism and has been endorsed by a wide range of institutions and organizations.
"We are very excited to be part of this innovative effort to engage tourists as active participants in the conservation of one of the world's most iconic endangered species, the mountain gorilla," said Julie Stein, Executive Director of the Wildlife Friendly Enterprise Network. "We believe consumers, in this case tourists, can be empowered to support global conservation efforts and, through the Gorilla Friendly™ Pledge, enable them to make a significant contribution towards safeguarding mountain gorillas for future generations."