Gorilla Friendly™ Pledge to Safeguard Wild Gorillas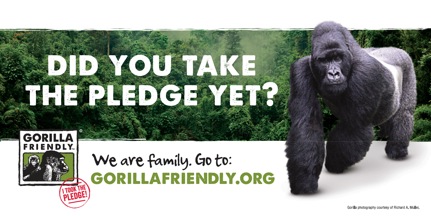 FOR IMMEDIATE RELEASE
Online Pledge Makes Tourists Partners in Conservation of Gorillas in the Wild
Kigali, Rwanda, 20 June 2014 – The International Gorilla Conservation Programme (IGCP) and Wildlife Friendly Enterprise Network (WFEN) announce the launch of the Gorilla Friendly™ Pledge, an awareness raising campaign developed to minimize the risk of disease transmission from human to gorilla, during treks to see these magnificent great apes in the wild.
Launched to coincide with the peak gorilla trekking tourist season and Kwita Izina, the annual baby gorilla naming ceremony which takes place in Rwanda on July 1, Gorilla Friendly™ Pledge will serve to safeguard gorillas by minimizing the risk of disease transmission or behavioral change as a result of exposure to people.
"Conscientious mountain gorilla tourism has contributed to one of the world's true conservation success stories. By demonstrating that gorillas and their forest habitat can provide real and lasting benefits to people and economies, people living around the parks have become their guardians," states Anna Behm Masozera, Director of the coalition International Gorilla Conservation Programme. "But we cannot be complacent and now is the time to better equip tourists with the tools to become gorilla guardians as well. This Pledge aims to empower tourists visiting any of the gorilla subspecies in the wild across Africa with information as to the regulations in place for gorilla tourism to make these often once-in-a-lifetime experiences even more valuable – to their experience and to the gorillas."
The Pledge outlines ten simple things that incoming gorilla tourists can do before, during and after their visit, including providing feedback on their experience.
The content of the Pledge originates from existing visitation rules and regulations defined by the leading experts on great apes and outlined in the International Union for the Conservation of Nature (IUCN) Best Practice Guidelines for Great Ape Tourism and has been endorsed by a wide range of institutions and organizations.
"We are very excited to be part of this innovative effort to engage tourists as active participants in the conservation of one of the world's most iconic endangered species, the mountain gorilla," said Julie Stein, Executive Director of the Wildlife Friendly Enterprise Network. "We believe consumers, in this case tourists, can be empowered to support global conservation efforts and, through the Gorilla Friendly™ Pledge, enable them to make a significant contribution towards safeguarding mountain gorillas for future generations."